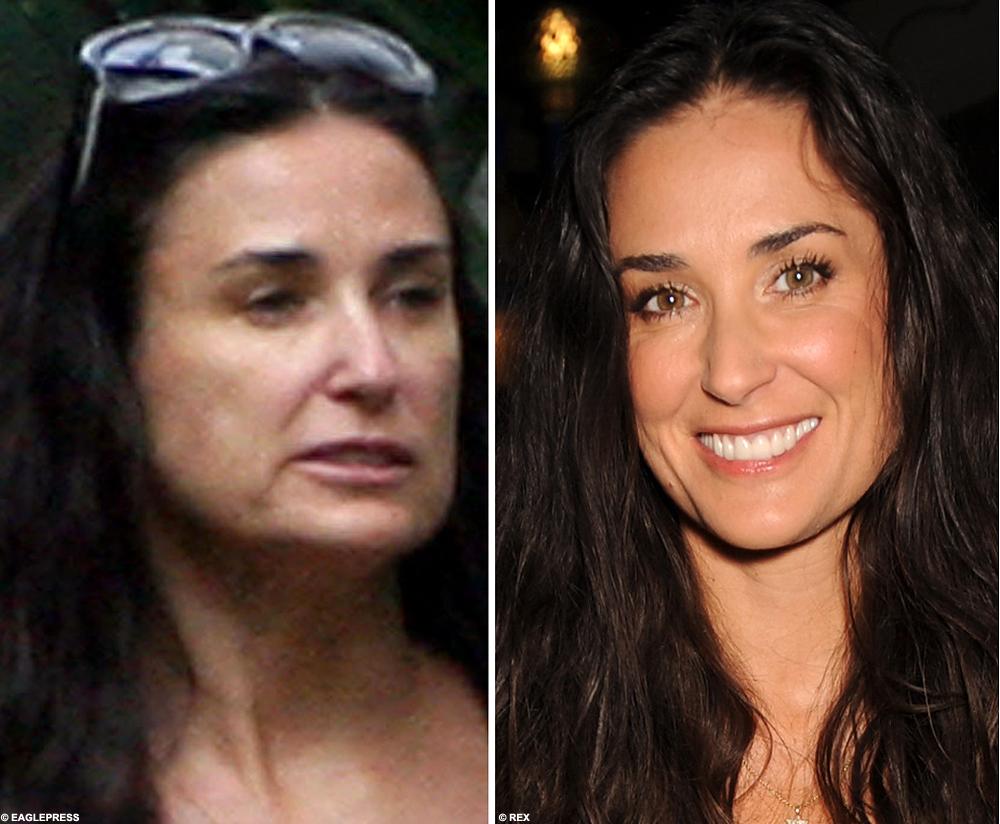 Besides the cosmetic surgery expenses accredited to her and her VERY SUCCESSFUL personal maintenance, rumored to be reaching around £500,000 (a highly questionable figure if you ask me),
Demi
exercises for 3 hours everyday. Yes you read me right , ... THREE HOURS! and I am not even talking about her incredible ability to follow a non-inflammatory diet (without any industrially refined foods)... she was a 100% raw-
foodist
for a while at the time of the first Charlie's Angels.
You can, by the way, find some raw recipes in the
LeBootCamp
weight-loss program.
Oxygen facials, 
glycolic
acid  peelings,  detoxifying leech treatments in Austria, etc... she is the queen of novelty and hard work.
As a result, at the age of 46 and married to a 31 year old man,
Demi has
 got "It" and really doesn't look artificial unlike some scalpel happy celebs do.
As a result, motivation comes and, I have a rather busy day:)
Unlimited

Roobois
all day long.
30 min walk
 with Nestle on an empty stomach (my walk, not the dog)
Breakfast
: 1/2 papaya + lime juice + 1 a small handful of fresh nuts
... and I was going to stick to that, when diets' death angel appeared (yes Paula I am talking about you) with hot cookies straight out of the oven... oh come on, let's enjoy, it is good for the mood and hop
 a cookie
... I'll go and burn it off later!
Off to the gym:
10 min elliptical trainer + 1h

Pilates

class with a ball (intense) + 35 min exercise bike.
Lunch: 1 bowl of leek and potato soup + 1 veggie steak with steamed cauliflower + 1 whole-grain rice-cake/guacamole + 1 blood-red orange
1h walk on the bay
Snack : 1 handful nuts + 1 banana (to prevent muscle cramps as I had 2 during my

Pilates

class) + 1 small handful Inca berries + 1 cube of plastic American cheese 
Diner: a couple of dozen corn crisps  + salsa + 4 chicken wings + 1 portion apple

flamenkuche

+ 1 ball

soya

cherry ice cream 
50 jumping jacks
100 abs on the killer abs lounge
30 wall press-ups
100 stand-up sweeps on each side
2 min ballerina 
I discover Girl With a Pearl Earring with the superb Colin Firth and Scarlett 
Johansson
. A must see if you haven't already done. Don't expect any action, it's more of an aesthetic, subtle and emotional film.